Art and Business Meet at Wrench Group Office with New Commissioned Artwork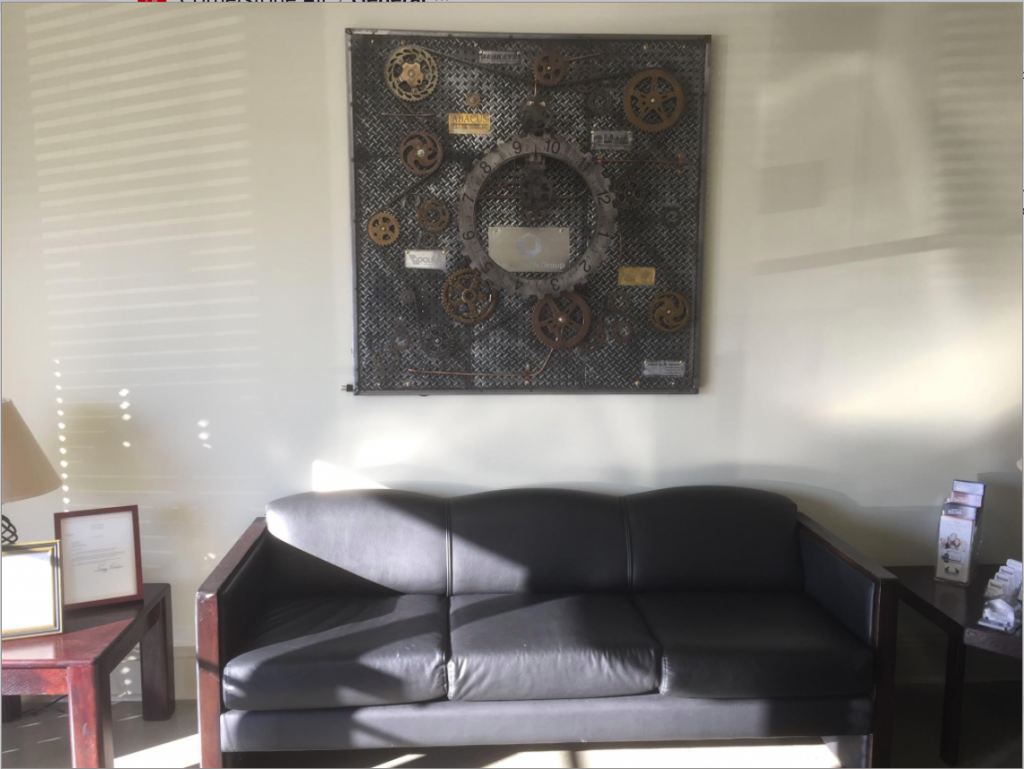 Six companies make up Wrench Group. While all of these are independently operated, Wrench Group is the common thread, creating a close-knit circle of companies in different marketplaces that can share ideas and common practices.
To illustrate the concept of Wrench Group, CEO Ken Haines commissioned the recently-installed art piece named "Geared Up for Success," that brings both art and business together and captures what Wrench Group is all about.
Bryan Towse at Cornerstone Advertising, which is a long-time advertising partner with Wrench Group companies, took on the task. Since Bryan's true passion is in fine arts, building and restoration of vehicles, and pretty much anything mechanical, he was the ideal candidate to create this one-of-a-kind piece of art in motion.
Towse wanted the design to be unique and show movement. A clock with a chain drive and multiple gears seemed like a symbolic way to represent Wrench Group and how its companies work together with the other companies. Towse chose to create the piece out of mixed metals and multiple fabrication and artistic techniques influenced by steampunk design, which is a style that incorporates technology and visual designs inspired by 19th-century industrial machinery.
"When this project came up for Wrench Group, my first thought was that it needed to look industrial and Steampunk was a natural choice for the design," said Towse.
The project took about two months to complete. Size, weight, power, materials, and fabrication methods were challenges to bring this concept to life. Due to the size of the piece (4 ft. square), the first challenge was weight. This meant Towse had to use lightweight materials wherever possible. Brass, aluminum, steel, and copper provided the foundation.
Another challenge was mechanical operation. Towse had to choose this option for ease of maintenance and to provide the option to turn the chain-drive off when needed. The entire piece runs off three separate motors. The clock uses two motors, and the chain drive uses a separate DC motor with a speed control device that can be dialed in to sync with the speed of the clock motors.
The final piece is a 4 ft. square metal clock with a chain drive around the edge and location logos in the middle. The clock was delivered from Westfield, Indiana, to the Wrench Group office in Atlanta on January 29. You can see the piece at the Wrench Group office Monday – Friday from 8 a.m. – 5 p.m. at 1787 Williams Dr., Marrietta, GA 30066.